Chalons too much for Tornados, 7-14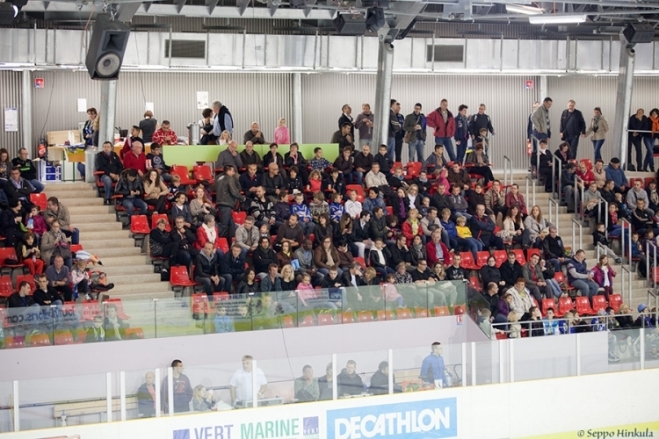 On saturday night, the Tornados drove to Chalons-en-Champagne to play against the Gaulois Chalons, where a rather unusual game took place in front of 676 spectators.
The Gaulois opened the scoring after 7 minutes by a goal of David Kubovcik.
Marcus Eriksson
got the Tornados back by scoring the 1-1 two minutes later. Chalons answered again two minutes later with a goal by Ryo Miyazaki. Tornado's coach
Petr Fical
, who put the skates on for this game, scored the 2-2, 14 minutes into the first period.
In the second period, both teams turned it up a notch and the result was 4-6 for Chalons, whereas
Petr Fical
scored a hattrick.
In the last period, the spectators were offered something rather rare: 11 goals were scored in one period. The final result was 14-7 in favour of Chalons, who now rank first in the division III standings. "We gave Chalons too many counter attacks. Forechecking is the thing we need to pay more attention to in the future.", said Tornado defenseman
Teemu Hinkula
.
Only 8 penalty minutes were booked during the entire game. The Tornados have fallen back to the 6th place of eight teams in group C and are hoping to grab a win in the next game against Dijon, which will be played at home next saturday.



David Kubovcik - Gaulois Chalons


Petr Fical - Tornado Luxembourg

Jakub Matejka - Gaulois Chalons
Melde dich anhand eines sozialen Netzwerkes an:
oder erstelle ein neues Konto hier:
oder
Du hast schon ein Konto? Melde dich hier an: