Another one point game against a top team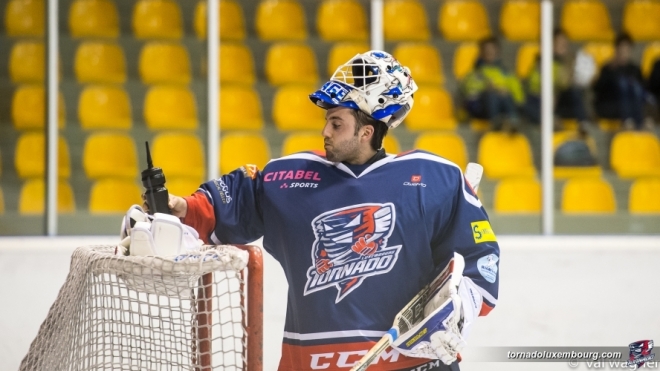 One of the group's top teams Chalons came to visit Luxembourg on Saturday evening. After a good game against Valencienne, coach Fical decided to keep the same game plan. Looks like this more humble tactic fits well to the team and all the players are committed to follow it. This seems to cause the thing that Tornado is able to challenge every team in this league.
First period was pretty even. No goals were seen neither big amount of penalties. But in the second period things started to happen. In time 22:48 Tony Jakubse managed to score a typical goal for him after a rebound hassle and home team got 1-0 lead. Young man
Jachym Krejza
got an assist to this goal which was his first senior team point.
After the goal Tornado's problems started. Due the huge amount of penalties for Tornado, Chalons got a possession of the game. Tornados managed to kill 3 first penalties but the fourth and fifth ones were too much and Chalons's skillful players scored two goals in the end of the period. So after two periods there was 2-1 on the scoreboard.
Tornado decide to change nothing for the third period and trusted that they will get their chance to tie the game. And there were many changes as it was Chalons this time who took lot of penalties. Finally a bit after halfway of the third period the old man
Robert Beran
took a slapshot on the power play and the puck found the way back to the net after deflecting Chalons' player.
So there was another overtime coming!
Over time was unlucky for Tornado. First they had too many men on the ice which caused a penalty. During that penalty puck find its way to Tornado's net after deflecting own players. That was a pity for the goalie Phil Lepage who once again showed few world class saves and gave Tornado change to fight for the win.
So once again it was another painful overtime loss for Tornado. Anyway these points against top teams can be important in the battle of the playoff spot. Especially it looks like that Tornado has found some kind of game identity and way to challenge all the teams in the group. Together with that and our excellent goalkeepers everything is still possible this season.
Tornado will play next game against Epinal on 21st of January. Next home game will be on 28th of January when Dijon will visit Kockelscheuer. The date for the postponed game against Reims is not set yet, but it will be informed immediatelly when we know it. It is possible that the game will be played in Luxembourg.
Melde dich anhand eines sozialen Netzwerkes an:
oder erstelle ein neues Konto hier:
oder
Du hast schon ein Konto? Melde dich hier an: