Tornado won Dijon 10-1!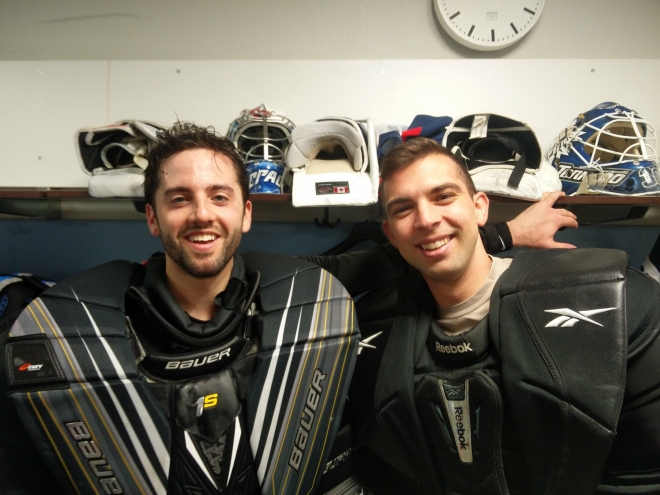 Tornado continued the chase of the play off spot with a great 10-1 win against Dijon.
Team was obviously well prepared to the game and all the players knew their role on the ice. Second goalie
Gilles Mangen
(on the right in the pic) had even taken a haircut just before the game so that he would look good on the bench and pleasure our female fans.
Even the final result was clear, the beginning of the game wasn't that easy. Dijon took 1-0 lead at the mid point of the first period. Tornado didn't give up. After one disqualified goal
Marcus Eriksson
tied the game 2,5 minutes before the end of the first period.
After that it was clear who ruled the evening. Tornadoes scored 5 goals in the second period and 4 in the last period.
After the game team got good news as Colmar, who's keeping the last play off place in the group, had lost 7-1 in Valenciennes. This means that everything is in Tornado's own hands. Next game will be THE BIG ONE when Colmar will come to Luxembourg on Saturday 11th of February.
SO PEOPLE, PUT THAT DATE ON YOUR CALENDAR AND COME TO CHEER TORNADO TO THE PLAY OFFS!
THE TEAM NEEDS YOUR SUPPORT!
Melde dich anhand eines sozialen Netzwerkes an:
oder erstelle ein neues Konto hier:
oder
Du hast schon ein Konto? Melde dich hier an: