Tornado ended the French league with overtime lost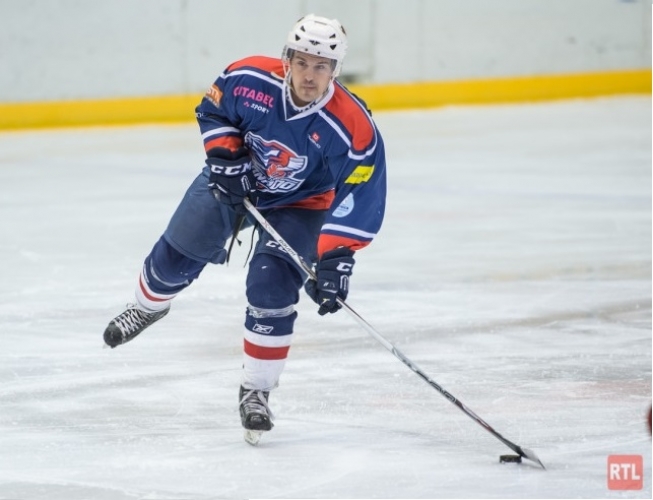 It's hard to win a hockey game when you need to play against 8 black and white jerseys especially if you need to do it with 3 or 4 skaters on ice most of the time. Ok, it's pathetic to blame referees, normally they are on the same level as players but anyway, last Satruday it felt like all the decisions were made against Tornado if it just was possible.
Tornado travelled to Amiens only with 11 skaters on the roster. Evening didn't get easier when
Teemu Hinkula
had to leave them after receiving a hit to his knee in first period.
Despite the small amount of players Tornado were able to challenge the home team. In time 10:47
Thierry Beran
shot Tornado to 1-0 lead. End of the period Amiens mangaed to tie the game.
In the second period Tornado took a lead again when Tony Jakubse used his secret weapon - slap shot - first time of the season. This time Tornado managed to keep the lead until the end of the period.
Third period Tornado played more or less shorthanded all the time. Despite of Torndao's good penalty killing, Amiens managed to score twice while there we having 5-3 power play.
Even though Tornado had a mountain to climb, Ossi Uotilad tied the game only 2 and half minute before the end of the regular time. So fourth overtime was coming.
On overtime Tornado had lot of changes to finish the game but unfortunately it was the home team who managed to score, on power play, of course.
So, the season in French III division is over. Tornado reached 5th position in the group. Lot of emotions were experienced, season contained uphills and downhills, like sport should do. Obviously the most memorable moment was a week ago when Kockelscheuer was packed by Tornado fans. We hope that this will continue next season and we can offer lot of good emotions to our fans.
Tornado will still play the last Lux Cup game on Thursday against its rival Beaufort. The game will start 19.30 in Beaufort.
Melde dich anhand eines sozialen Netzwerkes an:
oder erstelle ein neues Konto hier:
oder
Du hast schon ein Konto? Melde dich hier an: