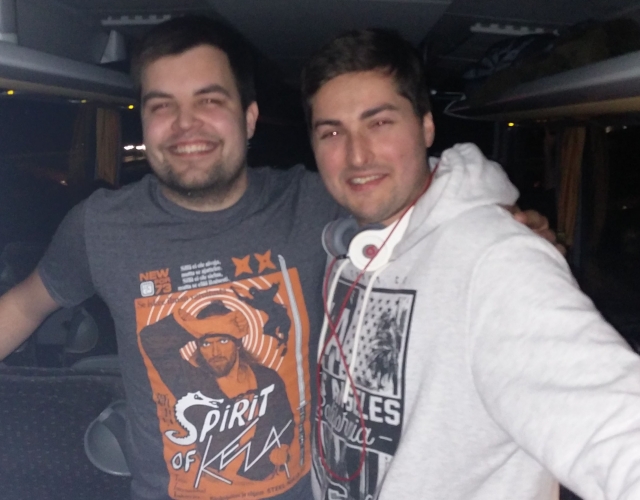 Tornado finished the season with victory!
Tornado played their last 3rd division game of the season last Saturday in Dijon. Game had been postponed and it didn't have an effect on the final standings. Still, it's always nice to end the season with the good win. Also the game was good preparation for the national team players before the world championship and it was also the last game in the Tornado for Olli Kuusjärvi and Yannick Hamri.

Tornado started the game well. In the first period they hit the post at least 3 times but only Thierry Beran managed to score with a nice wrister. That was the only in first 20 minutes so after the first period the game was 1-0 for Tornado.

During the break team decided to keep the same spirit in the second period. That worked and Marcus Eriksson scored 2-0 for Tornado. After that Dijon get into the game as well and suddenly the score was 2-2. After that, on power play, Olli Kuusjärvi took Tornado to the 3-2 lead with a quality one timer slap shot. This didn't make Dijon to give up, opposite, they kept fighting and scored 2 goals in the end of the period. After 40 minutes play teams went to the break with a result 4-3 on the scoreboard.

Tornado had a bad start for the third period when Dijon scored they 5th goal in the beginning. In that point coach Fical took a time out and mixed the lines. The tactical move paid off immediately and Tornado scored 3 goals in few minutes. Goals were scored by Kuusjärvi, Teemu Hinkula and, perpetually young, Robert Beran. In the end of the game Tornado had no problems to protect their lead and Eriksson and Colm Cannon scored two more goals for Tornado.

That's it, season ended with a nice 8-5 win for Tornado! It's always nice to end the season with the win! It gives motivation for next season! Also the bus drive back to home is much more hilarious.

As mentioned, Tornado will lose two key players after this season: fans' favourite Olli Kuusjärvi had a nice season, 13 games 11+9=21 points. during the season, he scored many important goals for Tornado. Yannick Hamri represented Tornado 3 seasons in big role with stats 32 games 30+26 = 56 points. Whole Tornado family wishes all the best for the boys with their new challenges.

Tornado family wants also thank all the fans who have been supporting us in the games and in social media. See you next season, we will need your support and we want to make it better for you than this one!

Ps. The gamesheet is not published yet so the stats are not updated.