An interview with Christer Eriksson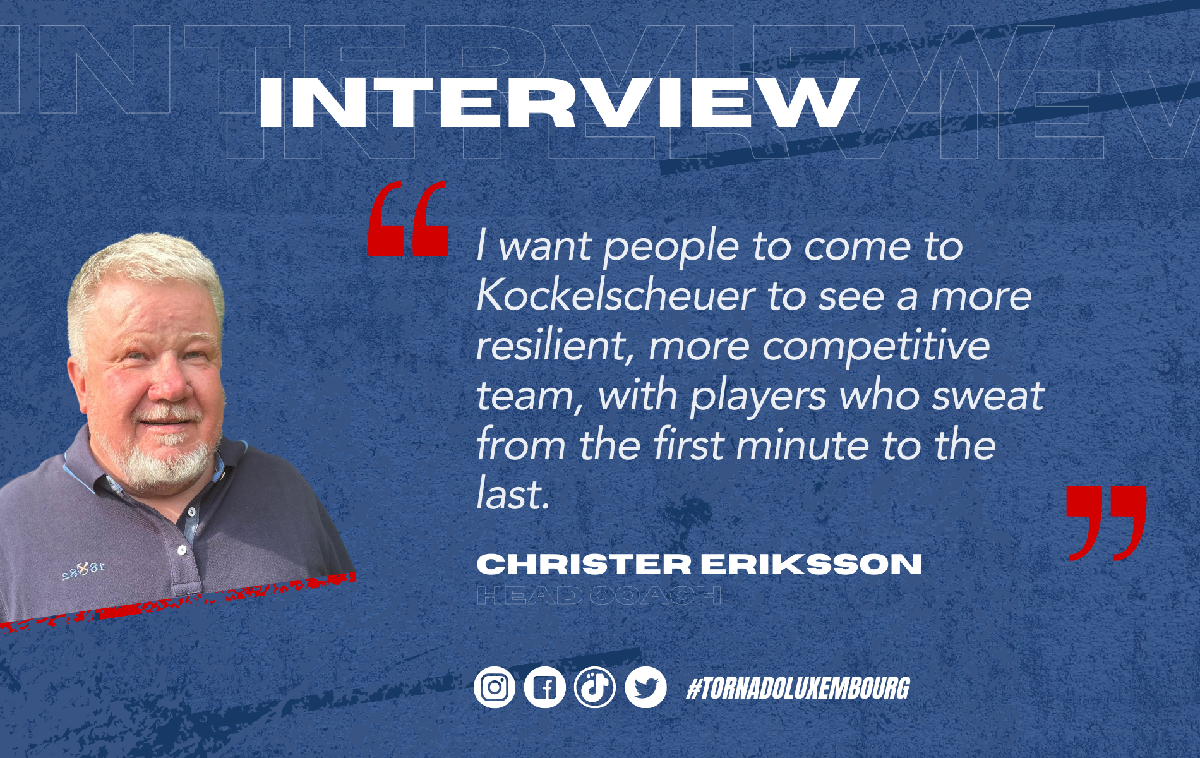 Head coach Christer Eriksson took the time to talk at length about the new team that is taking shape for next season and the thinking behind it.
What changes can we expect next season? Tornado are announcing extensions and new players on social media. What has guided these choices?
C: I arrived last season and discovered a very pleasant group, with excellent people, just good mates who enjoy playing hockey together. But it was also an 'ageing' group that was finding it difficult to commit to the level needed to maintain and develop at a competitive level because of their different personal situations (family, work, etc.). In a way a team sitting in a 'complacency zone'.
So we need a new generation of players to make our team more present and more competitive so that we can continue to progress and become stronger in our current championship.
The Tornado and indeed, in my opinion, Luxembourg hockey in the broadest sense, are undergoing a generational change over the next few seasons. There's nothing surprising about that, as it's a totally normal cycle for all teams and all leagues.
So you're going to be putting a bit more emphasis on young players?
C: Not necessarily young players, but more to rejuvenate our squad and raise our level and our 'routines' generally in training and competitions. That's something we need to do if we're going to progress. I also have a double role with the Tornados and the national team, so I'm obviously also thinking about Luxembourg hockey in the broadest sense. If we want a new generation to represent Luxembourg as a country, we also have to give playing time to these young local players, but obviously it's also up to them to 'answer the calls'.             
 We started this last season and we're going to continue, even if youth in itself is not the main criterion for getting into a competitive team - that would be far too easy. It's obviously sporting qualities, commitment and presumed positions that take precedence in a healthy competition to be able to join senior competition hockey.
Last season we had a squad of around 35 players who were fairly irregular in terms of attendance. In the end, that's not a very good solution, because we rarely work with a full team at training sessions. It's preferable to have a smaller group with a very regular presence of around 25 regular players at most. With this type of squad, their involvement and progress will be very different.
In addition, I'd also like to put together a small group that 'knocks on the door' of the Tornados, which we could also call 'privileged future talents', made up of juniors who aren't yet fully ready to join the squad but who will be invited regularly to start learning and gradually integrate into the squad.
We also have young players who leave us to study. The most important thing for me is that they stay fully involved in hockey and that we make sure they find a good club to continue and progress. Because one day, when we get to a competitive level and maybe even in a better league, these players might come back to make us even stronger.
We're expecting 3 new players at this stage in September. Can you tell us more about these players?
C: Firstly, they're players who fall into our generational gap, i.e. between the ages of 20 and 25. What's more, these players have been playing in competitions that are superior to the ones we have at the moment. These players come with a profile and a state of mind that should strengthen our team. I should point out that these players are not professionals. They will have the same status as the rest of the team, which obviously does not prevent them from having a professional spirit and commitment. These players will also have to build a social and professional life for themselves in Luxembourg. We will support them in this process so that they integrate as well as possible.
To be clear, we are not aiming to build a 'professional' team, far from it. We want to bring in new players with profiles that are still developing in hockey. Players who also have the time and resources to invest in their sporting careers. At the moment, we only train 2 or even 3 times a week and play one match a week. That's very little and it's very complicated to develop a group in these conditions unless you have impeccable attendance. These 3 players also have a similar profile: they come from countries or youth academies where the rigour I expect is omnipresent at every level. I also expect them to instill this spirit in our young players. They will bring a different kind of experience.
I would add that we are also expecting 2 new young goalkeepers, but they are already well known in Luxembourg. Jesse Miquel came through the ranks with the Huskies and Baptiste Franck was the Hurricanes' goalkeeper last year.
Is the roster already complete or are we still hearing about new players?
C: I have 3 criteria for keeping players or bringing in new ones. The first criterion is to have a competitive level, technically, physically and tactically, or at least to have the potential to do so. The second criterion is to be regular at training. That's a big problem for us. Not because the players don't want to, but a lot of players have lives that are changing from a family or professional point of view. It's not always compatible with what I expect, but I respect that and I understand it completely. It's respectable. But the consequence is that it's impossible to achieve or maintain a competitive level. It's bad enough that we only have 2 training sessions a week, but if on top of that some people take part erratically... You can't maintain your sporting level with so little training... it's not possible.
And the third criterion?
C: The third criterion is acceptance of their role in the squad. Not everyone plays power-play, not everyone plays in the 1st line, not everyone plays in the position they want. I think that most of our players are in good spirits and are ready to understand that, because unfortunately in a team you don't always play the role you'd like. It can still happen that there are players who don't want to change role or take on another one. But that's how it is in competitive sport, you don't maintain your status or level just by being there. You keep your level and your status because you deserve it, you work hard, you are capable of defending that status. And if you don't meet those criteria, I don't think you can hope to be better in competitions.
What can we expect next season with this new roster that is gradually taking shape?
C: Everything. We can expect anything. I know that our short-term objective can't be to "win the championship", because at the moment we've got a long way to go. Success is simply a consequence of our day-to-day work and it comes when we're ready for it. But also because we know that the championship has evolved enormously, and many clubs are doing good work. The D3 is not what it was a few years ago. You used to be able to have a few players who could make a difference individually, which is almost impossible today. Today, you need to put together a complete team and work to improve your 'lowest level' so that you have a team capable of playing at a higher level and performing well over the long term.   
In any case, I hope that with the reshaped squad we'll have a more homogeneous team, with a lot more pressure on us to progress. Personally, I want people to come to the Kockelscheuer to see a resilient, competitive team, to see players who sweat from the first minute to the last. If we can do that, we can certainly win more games than we lose. So that's the goal. After that, anything can happen, that's the charm of sport. You always have an opponent in front of you. There are always other teams trying to do the same thing. As far as I'm concerned, we're in our first phase, developing the club, raising the level, in other words having a much more homogeneous team in terms of ability. This will give us the opportunity to grow together. Once we've got that, there's nothing to stop us achieving great success in the future.
We're currently playing at D3 level in France, which is certainly not a very high level, but it's still an official championship, so we need to change our status and play hockey at a competitive level instead of just being a team that plays for the pleasure of 'taking part'. In fact, for me, the real pleasure lies in working, progressing and performing individually and collectively over the long term.
I really think that the Tornado Family and the Huskies need a first team like we see elsewhere. My first impression this year was that we didn't have a real first team. A 'real first team' that is competitive in the official championship will be the pride and joy of all of us in the Tornados and Huskies family.
Can we expect any new announcements about new players?
C: Regarding new players, we haven't seen the last of the announcements. It's possible that there will be new arrivals, as we still have places to fill. I'm not 100% sure at the moment who wants to or can continue playing. I'm also not sure who might be leaving for various reasons (moving house, personal situation, work). I've also spoken to 1 or 2 players who say that, given their level or professional situation, it's going to become difficult to claim a place in the team. So we're still a long way from finalizing our plans for last season's players. It's a long process for a lot of different reasons. We still have a little time.
But one thing is certain, I'd like to see those who are leaving the Tornado continue to get involved and take on management roles in our hockey family. They are all very good people with a good knowledge of hockey, and I hope to continue to meet them at Kockelscheuer for a long time to come to share and help in the progression of our 'hockey family'.
Those who have been already announced as staying on next season, I call the 'backbone'. In other words, the players who have status in the squad, who are present at training sessions and who are among our best players. I don't want people to think that we're in the process of sweeping the old team under the carpet and building a new one from scratch. That's not the case. We're in the process of strengthening our structure and our squad so that we can be competitive in the current championship.
In fact, it's not just the squad that we're trying to grow, but also the staff and the whole club. It's motivating and very important for everyone... we have to grow together. If we don't grow together, there's no point. We could do it the old-fashioned way, find a star who wants to come to Luxembourg and end his career scoring 5 goals a game, but that's a recipe that no longer works at this level. That was the case 10 years ago, even in D2 in France. Today that's no longer the case. You find lots of very talented young players in D3 and homogeneous teams. It's more complicated and that's just as well, because otherwise the competition would be boring.