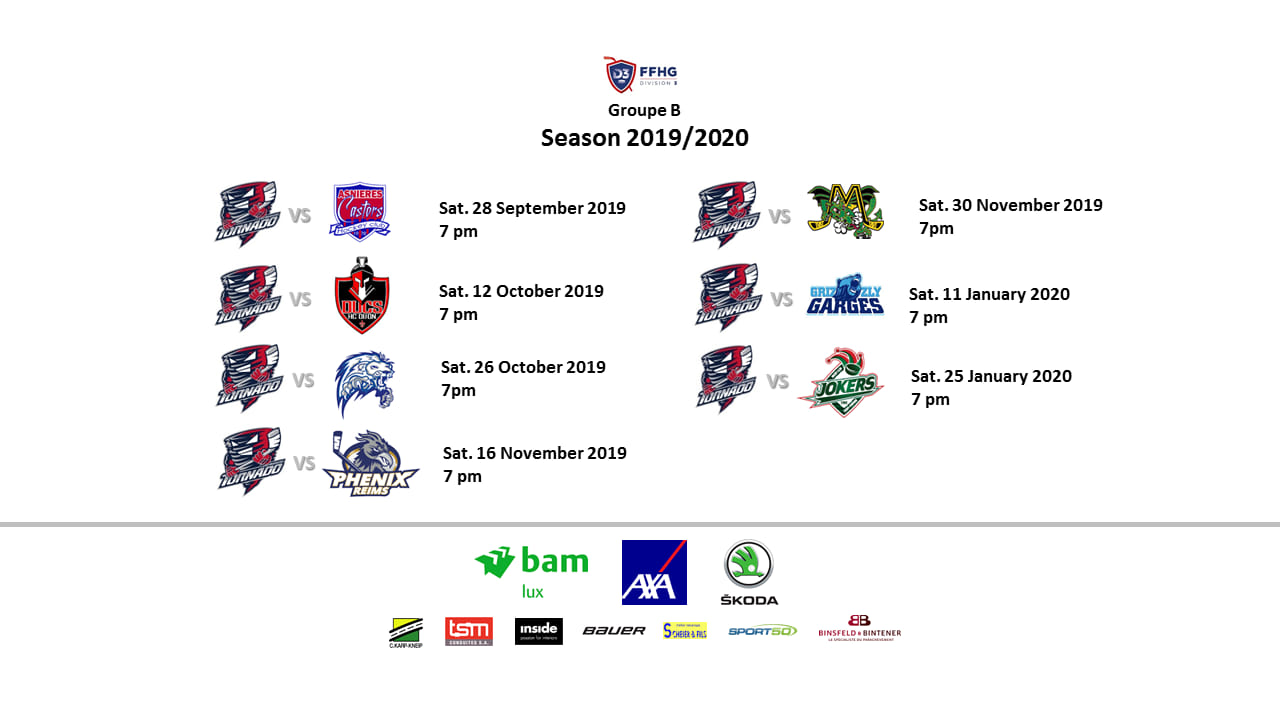 A new season with some old and new teams
Season 2019-2020 provides lots of things to follow for Luxembourgish hockey fans. There are the Olympic qualifications in November, U18 World championships at the end of March and also the senior Championships at the end of April. And in addition our beloved clubs Tornado, Beaufort and both of the Puckers teams play in their own leagues. Lot to follow for hockey fans but also lot of action for our non-professional players. We wish a lot of courage to all of their families.
In this season Tornado Luxembourg plays in group B in the French 3rd division. Other teams are Asnières, Reims, Dijon, Garges, Cergy, Metz and Compiègne.
Experienced Asnières is one of the favourites
After the first round the group seems to be divided between teams of two different levels. Tornado is of course the best team (?) but Asnières and Reims are other favorites.
Tornado played in the same group with Asnières two seasons ago. In that season Asnières didn't lose a single game in the group stage and managed to get their spot in the final four tournament at the end of the playoffs. Last season Courbevoie, who was promoted to division 2, managed to beat Asnières. Last year Asnières didn't reach the final tournament as Annecy beat them in the third play off round. Asniéres' caprain Guillaume Pfeiffer told Tornado's spies that they have some new players in the team, but the experienced core is still the same. They also have a big roster, more than 20 skaters which is important during the long season.
Reims has been investing
It looks like Reims is starting to take hockey more and more seriously. Already last season sneaky Jakub Bernad played s few games with them and scored 3 points per game. This season Reims managed to sign a Chalons legend Jakub Matejka, who comes straight from division 2. Maybe some of you remember him from the time when Chalons was still playing with us in division 3. In the preparation match Reims won Asnières 3-1. According to Pfeiffer, the game was even until the end when Reims sealed the game in power play.
Dijon might be the dark horse
In previous seasons Dijon hasn't been able to challenge the top teams but now it looks like things might be different. They beat Garges in the first round with 10-2 and their newest signing Michal Macko scored 2+4 in his debut. There seems to be a familiar name from Fontenay, Sergei Khoroshun, in their roster but he didn't play in the first game.
Cergy and Garges are good pals from the past
Two seasons ago Cergy and Garges were in the same group. Then they couldn't challenge Tornado and after the first round it looks like that they might struggle this season as well. Though Cergy might have had some improvement as some players from their first team moved down to play with the division 3 team, so there should be some quality in the team now. In the first round Cergy lost 8-3 against Asnières which is not that bad result against the strong team.
Two new comers
When the season is running and the dark dark November comes, it's nice to have some change. This season the change comes with two new teams, Metz and Compiègne. Tornado played already against Metz a week ago. The derby ended a 10-3 victory for Tornado. People in Metz have said that they have big plans for hockey in future but this season they are just settling down in the league.
Compiègne is completely new even for the hard working scouting team of Tornado and there is not too much in the reports. Compiègne has had a team in the "loisir" league and according to their social media channels there seems to be a nice ambiance at the rink and a lot of passionate people. In the first round Compiègne lost with big numbers (13-0) to Reims in their home opener, so it looks like it might take some time before they get used to the speed of division 3. Anyway, we warmly welcome Compiègne to the league as well.
Same formula as last season
Division 3 has same structure as last season. The teams play twice against each other. The six best teams from each 4 groups go to the play offs where after three rounds the four best teams go to the final tournament. Regular season will be played quickly as it will be over already at the beginning of February.
So, another interesting season coming. We hope that Tornado can give you more memorable emotions. Home games in the play offs last season were amazing. We hope that we can have similar or even better experiences with our fans this season as well. More about Tornado team and its goals in the next article.
#biggertogether