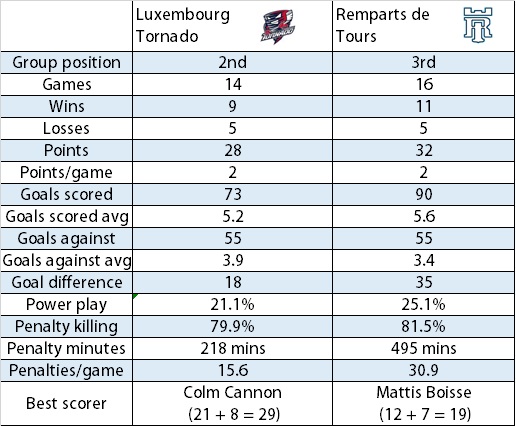 Play offs - 1st round - Team comparison
The play off spring is about to start and it's time to take a look at the teams. The Remparts de Tours played in a very thight group A where six teams ended the regular season with 5 points difference. 

The teams have played against each other in the play offs of the season 2013-2014. Back then, Tours won their home game 9 - 3 and Tornado won their home game 7 - 5. So the final result was 14 - 10 for Tours and they went to the second round. So this time it's time for Tornado to take a revenge.

As you can see from the stats, the numbers are pretty equal. The biggest difference makes the penalties. In the group stage Tours was the team who spend most time in the penalty box. Tornado instead was one of the least penalized teams. 

There is also a tiny difference in individual stats. Tornado's first line has scored big part of our goals when in Tours it is spread for various players.

The first game will be played this Saturday in Tours at 8pm and the second game on 10th of March in Kockelscheuer at 7pm. The overall result is what matters so the team who has scored more goals after two games goes to the second round.