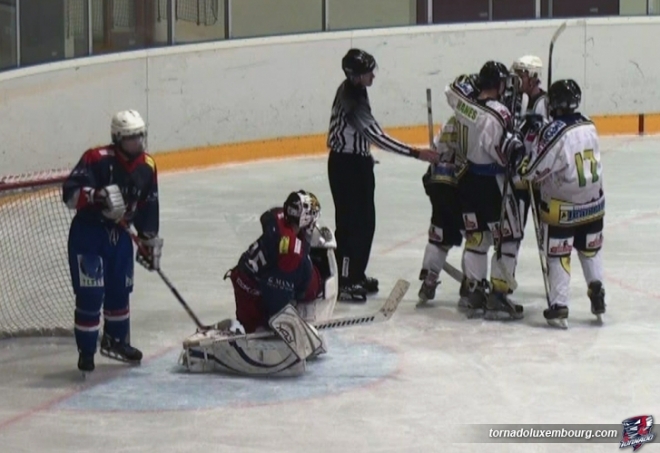 Tornado can't hold on to lead in the third and suffers another loss against Chalons
In another close game in front of the home crowd, Tornado played a close and exciting game all the way to the end, but could again not manage to come out on top.



And the game started well for the home team when François Schons caught the guests from Chalons off guard with a goal after just 44 seconds. But the referees called Georges Scheier for a check to the head and Tornado could not rely on the services of one of their best players which Chalons promptly took advantage of to score the equalizer at the 15' mark. The game was close and the first period ended 1-1.



In the second, Chalons capitalized on the powerplay to make it 2-1 at 25.28 when Scheier was yet again sent to the box. But it took less than 90 seconds for young Canadian Matthew Maud to find the back of the net on a breakaway and a laser beam shot five-hole. The battle continued however and Chalons' Marek Hanes - best scorer of the C group of the French Division 3 - put the guests from Chalons back on top just a minute later. Tornado's powerplay finally clicked when Joel Holtzem converted a pass from Maud for the 3-3 equalizer just seconds before the buzzer that marked the end of the second period.



Tornado was determined to get the first home win of the season and came out buzzing. It was again Holtzem that found the back of the net on the rebound after Maud released a quick shot from the side thereby collecting his third point of the game and team-best 5th point of the season.

But Chalons was not willing to let the points slip away and would score a couple more goals in the period. Delaunois scored on a break-away at 48.48 and as Tornado player coach and defenseman Marian Gallo sat in the box for hooking, Chalons took the lead again which they would not give up for the remainder of the game. An empty netter 15 seconds before the end of the game sealed Chalons' win and yet another heartbreaking loss for an improved but unlucky Tornado team.



Next week's opponent is unbeaten league leader Strasbourg.