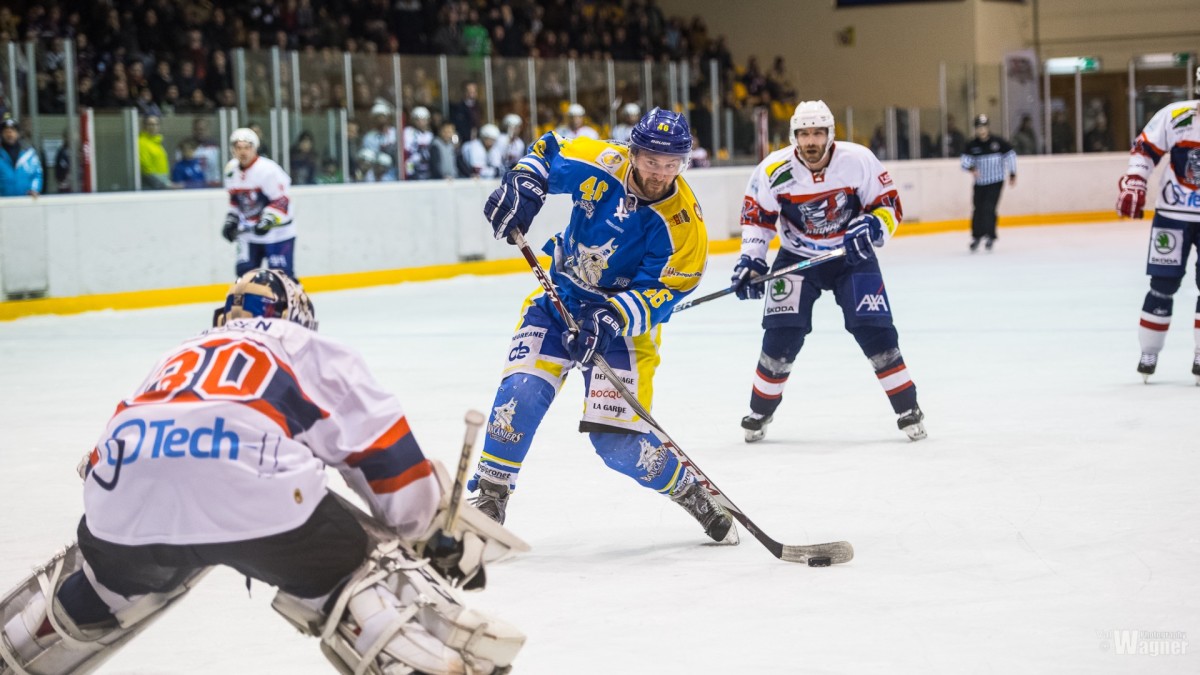 Tornado lead the series 6-5 after the first 60 minutes / Tornado féiert d'Serie 6-5 no den éischten 60 Minutten.
Another exciting hockey night was offered to numerous hockey fans in Luxembourg when Tornado beat Toulon with 6-5 after a tight battle. 

Tornado came to the game with a full roster of 20 players. That's of course a good thing and gives options to coach Fical but it's not so easy for the players, especially when there are power plays and penalty killings and some players need wait their turn to get on the ice for a long time. In those situations it can be hard to keep the game rhythm. While Tornado had a full roster, Toulon came to Luxembourg with only 12 players.

As Vesa Hirvonen said in Liam McEvoy's interview, playoff-world is interesting as in each round there is a new team which we don't know from before, so it normally takes some time to adapt to the game.

So it was this time as well and the start of the game was a bit nervous. Maybe because of the long bus ride and a small roster, Toulon tried to kill the tempo. That also made it hard for theå big Tornado roster to get into the game.

It was Toulon who got the first mark to the game sheet. After 6 minutes of play Toulon's best scorer, Morgan Pagni scored the game opener. Luckily, just two minutes later Vesa Hirvonen sent a lateral pass from the corner to the net and Sacha Backes, who is playing an amazing comeback season, did what goal scorers should do: drive to the net, keep your blade on the ice and you'll have your name in the game sheet. 1-1.

One and a half minute later, Toulon had a shot from distance which bounced luckily in Toulon's favour into Tornado's net and the game was 2-1 to Toulon. At this point, Tornados was in a bit of a trouble. Henri Öörni had got injured, which messed up the lines, and coach Fical was planning to change goalie but as the referees didn't see it and started the game, Gilles Mangen had to turn back to the net, bottle in his glove. Now later it's easy to say that this maybe was the turning point for Gilles who is playing his last season. This probably gave him a motivation boost as after this he was like a wall in the net.

Tornado managed to keep this score until the break where they had a chance to set up the lines again. During the break the team discussed that it can beat Toulon with skating, as Toulon tried to keep the tempo low and we had a bigger roster.

That plan worked and in the beginning of the period we saw a very strong Tornado team. After 5 minutes of playing, Ossi Uotila, who had recovered from the injury he had in the last regular season game, tied up the game. Then in the middle of the game there was crazy 3 minutes where Tornado first scored 3 goals by Shorty Müller, Ossi Uotila and Marcus Eriksson and then after that, Toulon's Pagni scored two goals and the game was suddenly 5-4 for Tornado. It's a pity that Tornado could not keep that 3 goals lead as they maybe get over confident which led to few accidents in the own end. Second period ended with these numbers.

In the third period Tornado took back 2 goal lead when Uotila sealed his hattrick. That lead lasted for 3 minutes until Toulon managed to score their 5th goal. That was the last goal of the game and the series is 6-5 to Tornado.

The second game will be played on 23rd of March in Marseille as Toulon don't have their own ice rink at the moment. This game gave lot of confidence for Tornado. We noticed that Toulon is beatable and especially with strong skating, like what Jusse Lampsijärvi showed in this game, we can beat them. Also another good thing is that we will get our key players, Colm Cannon and Jonas Mullo back to the roster so we should have the best possible squad in Marseille.

The atmosphere in Kockelscheuer was again so amazing that the team is eager to have another home game on the third round and also give Gilles Mangen and Ronny Scheier, who are playing their last season, one more chance to play in front of the home crowd.

Thanks for coming, thanks for cheering. This #playoffspring has been a blast and it continues!
****************************************************************
LU
An nach een aaeren spannenden Hockey Owend huet sech den villen Hockey Fan zu Letzebuerg, wou Tornado an Toulon sech mat 6-5 an engen Kampf duerchgesaat huet, gebueden.
Tornado as mam kompletten Kader vun 20 Spiller ugetrueden. Daat ass natierlech eng gudd Saach an et huet dem Coach Fical vill Méiglechkeeten gin, waat awer net all ze einfach vir d'Spiller wuar, speziell bei den Power-plays an Penalty, virwaat och e puer Spiller méi laang hun waarden missten bis se op d'Äis konnten. An desen Situatiounen kann et haart ginn vir den Rhythmus ze haalen. Während Tornado mam ganzen Kader opgetrueden ass, ass d'Equipe vun Toulon nemmen mat 12 Spiller ugetrueden.
Wéi den Vesa Hirvonen zum Liam McEvoy am Interview gesoot huet: "D'Play-off'en sinn interessant well all Ronn een neit Team kennt wou maer nach net kennen, dowéinst helt et och e beschen Zäit an Usproch bis maer eis un den Rhythmus vum Spill adaptéieren."
Esou wuar et och des Kéier, den Ufank vum Spill wuar e besschen nervös. Dest wuar awer wuel éischter wéinst der laanger Busfahrt an der gerenger Plaatz am Bus. Toulon huet en héigen Tempo unginn, waat et Tornado emsou méi schwéier gemaach huet vir an d'Spill eran ze kommen.
Toulon as déi éischt Equipe déi op den Scoresheet komm ass. No 6 Minuten huet hieren beschten Scorer, den Morgan Pagni mam éischten Goal, d'Spill lancéiert. Glecklecherweis huet den Vesa Hirvonen zwou Minuten méi spéit eng lateral Pass aus dem Eck op den Goal geschoss wou den Sacha Backes, deen iwweregens eng immens Comeback Saison spillt, daat gemaach huet waat een Goalscorer maachen soll, an huet en an d'Netz geschoss. Fuer virun den Goal, bleiw mam Schléier um Äis, an dann steet däin Numm um Spillbou: 1-1.
Eng an eng hallef Minutt méi spéit, haat Toulon een Wäitschoss gemaach deen zum Gleck vir Toulon am Tornado hierem Netz geland ass, an et stoung 2-1 vir Toulon. An deem Moment haaten Tornado e puer Problemer. Den Henri Öörni huet sech blesséiert, waat een Duergerneen an den Lignen bruecht huet, an den Coach Fical haat geplangt den Goalie ze wiesselen, waat den Schiedrichter awer net gesinn huet, an huet d'Spill erem ungepaff. Den Gilles Mangen huet erem missten an den Goal zereck goen, mat der Fläsch an senger Hänsch. Elo ass et natierlech einfach ze soen dass dest den Wendepunkt vir den Gilles, deen seng lescht Saison spillt, wuar. Dest huet him hëchstwahrscheinlech een Motivatiouns-Schub gin, well nodeems wuar hien wéi eng Mauer am Netz.
Tornado huet den Spillstand bis d'Paus, wou se d'Chance haaten nei Linnen ze bilden, haalen kennen.
Während der Paus huet d'Team entscheed dass sie Toulon schloen kinnten andeems se hieren Virdeel vun der kompletter Spillerlescht ausnotzen an schnell fueren, well Toulon probéiert huet d'Geschwindegkeet niddreg ze haalen.
Den Plang ass opgaangen an um Ufank hunn maer eng immens staark Tornado Equipe gesinn. No 5 Spillminuten, huet den Ossi Uotila, deen sech vun enger Verletzung vun der leschter Partie an der regulärer Saison erholl huet, den Rhythmus gehuewen. An der Hällschent vum Spill waren dräi vereckten Minuten, wou Tornado 3 Goaler, een vum Shorty Müller, een aaneren vum Ossi Uotila an den leschten vum Marcus Eriksson, geschoss ginn sin. Dernoo huet den Pagni vun Toulon direkt zwee Goaler geschoss an d'Spill stoung op eenmool 5-4 vir Tornado. Et ass schued dass Tornado déi 3 Goaler net bäibehaalen konnten, sie waren sech zevill secher ginn, an dest dann zum Enn zu e puer Fehler geleedt huet. Den zweeten Drettel ass esou op den Enn gaangen.
Am dretten Drettel huet Tornado sech eng 2 Goal, duerch dem Uotila säin Hattrick, d'Féierung zereck geholl. Des Féierung konnten se 3 Minuten bäibehalen, bis Toulon et gepackt huet hieren 5.ten Goal ze schéissen. Dest wuar dunn den leschten Goal vum Spill an den Match geet mat engem 6-5 un Tornado.
Daat zweet Spill gett den 23.ten März zu Marseille gespillt, well Toulon net hier eegen Aishaal zu dem Moment zur Verfügung hun. Dest Spill huet Tornado vill Vertrauen an Kraaft gin. Et ass eis opgefall dass Toulon speziell matt schnellem an guddem Fueren ze schloen ass, genau esou wéi den JussenLampsijärvi an desem Spill gewisen huet. Eng aaner gudd Saach ass dass eis Stammspiller, den Colm Cannon an Jonas Mullo zereck an den Spillkader kommen, an maer kënnen mat der beschter Equipe op Marseille fueren.
D'Athmospher op der Kockelscheier wuar esou gudd dass d'Team sech freet daat nächst Heemspill an der dretter Ronn ze spillen, an dem Gilles Mangen an dem Ronny Scheier, déi hier lescht Saison spillen, nach eng Chance ginn en Face vun esou engem gudden Heempuplikum ze spillen.
Merci dass daer all komm sidd, merci vir aeren Jubel an aer Stemmung. Desen #playoffspring wuar eng Explosioun an et geet esou weider!