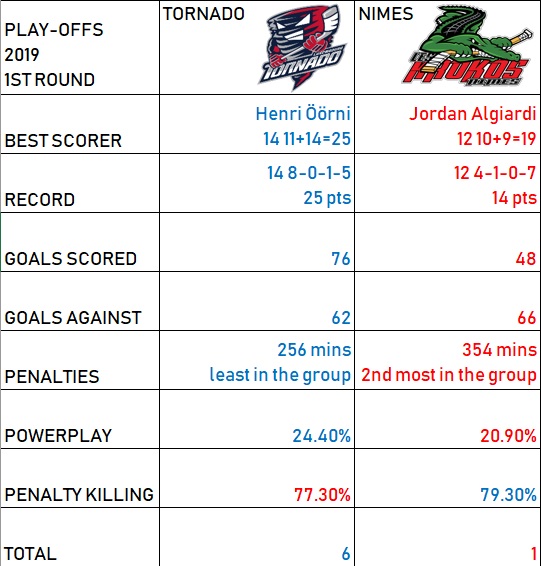 Tornado will start their playoff-spring in southern France
EN
Playoffs spring is finally here and it's time to have a look at the first-round opponent, Nîmes Krokos. Tornados has never played against Nîmes so our scouting department have had to work hard to find any information.
Nîmes played in the group D and became 5th. They won 5 of their 12 games during the regular season. Tornado's record was 8 wins in 14 games. Nîmes scored 48 goals and conceded 66 goals. For Tornado, the same numbers were 76-62. Because of these facts Tornado's best scorers have collected more points than the top players of Nîmes.
Numerous penalties has been a usual comment after Tornado's games. Still, the fact is that Tornado was the second least penalized team (256 minutes) in the group mostly because of small amount of major penalties. At the same time, Nîmes was the second most penalized team in their group with 354 penalty minutes.
Tornado was in the end pretty effective in power play as 24.4% of the power plays ended up with a Tornado goal. For Nîmes, the same percentage was 20.9%.
Considering penalty minutes and penalty killing percentages one can see that practice makes perfect as Nîmes' penalty killing percentage is 79.3%, slightly better than Tornado's 77.3%.
If you want to give have a look what the game of Nîmes look like, check this link: 
https://www.youtube.com/watch?v=LPeVYicfgq0
Tornados will start their journey to Nîmes already on Friday evening in a sleeping bus. Let's hope that the team will have a good sleep in the bus so they will be ready on Saturday at 19.00 when the puck drops.
The second leg of the game will be one weekend later in Kockelscheuer.
In the second round the winner of this pair will meet the winner of Toulon (1st in group D) vs. Dammarie (2nd in group C) pair.
******************************
FR


Tornado commence le printemps et les playoffs dans le sud de la France
Les playoffs arrivent enfin et ceci est une bonne opportunité de regarder nos collègues de Nîmes Krokos un peu plus près. Tornados n'a jamais joué contre Nîmes,cependant notre département de scouting a dû travailler plus dure que normalement afin de trouver d'information.
Nîmes était 5ème en groupe D. Ils ont gagné 5 de leurs 12 rencontres. Pour rappel, Tornados a gagné 8 sur 14. Nîmes a marque 48 but en prenant 66. Pour Tornado, les chiffres étaient 76-62. Cela résultait également dans le fait que Tornado avait le meulleurs pointeurs dans les statistiques individuelles. 
Tornado prends habituellement beaucoup de pénalités, mais était la 2ème moins pénalisé équipé dans sa grouoe avec 256 minutes, pendant que Nîmes était la 2ème plus pénalisé équipé dans sa groupe avex 354 minutes. 
Tornado était assez efficace en utilisant 24.4% de leur power play; Nîmes, à son côté à marqué en 20.9% de leurs.
Pour ceux qui veulent regarder Nîmes jouer, nous vous conseillons: 
https://www.youtube.com/watch?v=LPeVYicfgq0
Tornado commencera le voyage jusqu'a Nîmes déjà vendredi soir en espérant de bien dormir dans le bus pour être prêt pour le match de samedi soir a 19h00.
Le match de retour sera joué a Kockelscheuer samdi après. Et le vainqueur jouerait contre soit Toulon ou Dammarie.