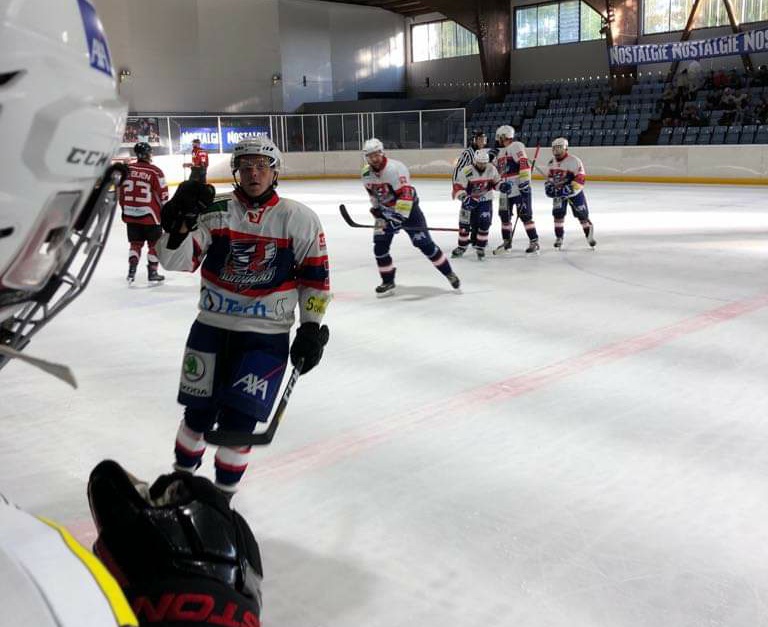 Tornado won the derby in season opener
Luxembourg Tornado started their season on Saturday 14th in Metz only after 3 ice practices together. Lack of ice time didn't seem to be a problem for experienced Tornado as they took 10.3 win after a clinical performance.
After few year break Metz have managed to build a team to division 3. The team is a mixture of old stars, youngsters and some imports from Amneville and Epinal. Also old Tornado legend, Yannick Hamri, plays in the team.
The game started with Tornado's control. Already in the second shift last year's scoring leader Henri Öörni showed that his preparation during the summer has been a success. Öörni managed to score the first goal of the season from his own rebound. Our ne wonder kid, 16 years old Vlad Shelest, who is already a familiar face from national team, had had a spot in the first line next to experienced Colm Cannon and Marcus Eriksson. Shelest showed that he earned the spot by using his quality wristwr to score his first senior goal in his first Tornado game. In the end of the period Shorty Müller gave an amazing backhand diagonal pass on offensive zone. Vesa Hirvonen had an easy job to finish that pass to the empty net. After Metz managed to score once on power play, the game was 3-1 after 20 minutes.
During the break Tornadoes decided not to give any chance to Metz in this game. That is what was seen on the ice as well. In the beginning of the period Öörni and Colm Cannon scored and Tornado already had a safe 5-1 lead. A bit after half way of the period Teemu Hinkula decided to show his summer kilos to Metz players by taking two penalties. Both of them ended up to Metz' goal. Luckily our second line was on fire. In the line Öörni and Ossi Uotila played together with a new comer from Amneville, Adrien Maurer. Both times the line scored immediately in the next shift after Hinkula's penalties so Metz never could really challenge Tornado. Goals were scored by Uotila and Maurer.
In the third period Tornado scored three more goals by Hirvonen and two times by Maurer. In the end Öörni had 2+2 points, Uotila 1+3(or 4) and Maurer 3+1 so this line was the key to the win in Saturday evening.
This game was a gentle start to Tornado. After two weeks the challenge will be much bigger when strong Asniéres comes to Luxembourg. The home opener will be played on Saturday 28th of September at 19h00. Come and fill the stands.
#biggertogether