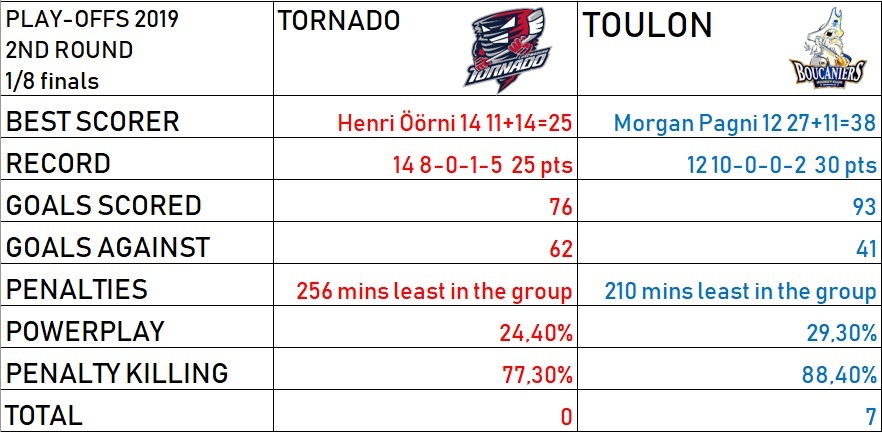 Preview – 1/8 finals – Luxembourg Tornado vs Toulon Boucaniers
After beating Nîmes 6-2 last Saturday in front of numerous, loud and passionate Tornado fans, it's time to turn the focus to the second round of the playoffs.
When playoffs continue, the challenge also gets bigger. In this round, which is also 1/8 final, Tornado will meet the winner of the group D, Toulon Boucaniers. The first game will be played in Kockelscheuer already in this Saturday 9th of March. Excpetionally, the game will start a bit later than normally, 20:30. This is because other events were already booked to the arena.
Toulon has had a strong season, they have won 10 out of 12 games and in the first round of playoffs, they beat Dammarie, which was the second team of the group C where Tornados played. Though the series wasn't easy for Toulon as in the first game Dammarie managed to win 7-4 at their home rink. In the second game in Marseille, Toulon took a clear 10-5 win and gets a chance to travel to beautiful Luxembourg.
Tornado's scouting has been working very hard again to get more information about the new unkown opponent. As seen in the stats, Toulon's games has been very entertaining when it comes to the amount of goals. They seem to have a few pretty good indviduals who have scored lot of points. It can also be seen in their power play efficiency. Toulon has been a clean team as it hasn't taken too many penalties, and in addition played well shorthanded. Last games Toulon has been playing with quite a small roster. Against Dammarie they had only 11 players in the gamesheet.
The stats form the regular season favours Toulon, but when we make a comparison to teams we know, things get more interesting. Tornado lost against Dammarie 3-4 at home and won 8-5 away. Against Nîmes, Toulon won 2-9 away and 6-3 at home when Tornado lost in Nîmes 5-4 but won 6-2 at home.
The winner of this pair will go to the 3rd round which means ¼ finals. That is the last step before the final four tournament. The opponent of the Toulon-tornado pair will be the winner of La Roche – Bordeaux pair.
Anyway, stats don't decide the winner but the game itself does. For sure we need a well prepared and disciplined Tornado but also again the support of our fans. Bring yourself and the spirit to Kockelscheuer this Saturday at 20:30. Doors will be open from 19:45.
#BIGGERTOGETHER