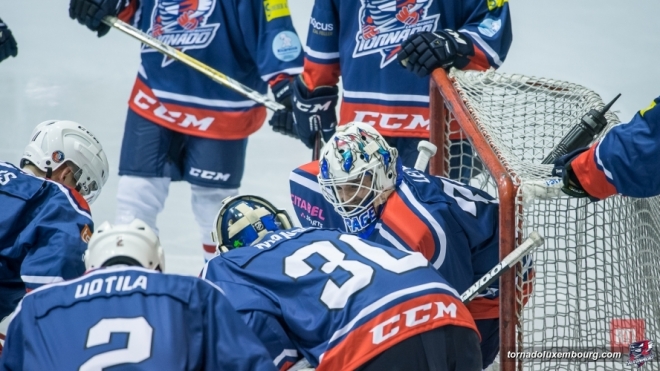 The playoff dream was destroyed front of the record crowd.
Terrible start and Colmar's first line were the key factors to destroy Luxembourg Tornado's playoff dream.



It took only 3 minutes and 15 seconds when Colmar had already taken 3-0 lead and their first line left winger Maxime Mathieu had scored a hatrick. In this point it was pretty clear that it won't be easy evening for Tornado.



Anyway thanks to the support of 350 spectators Tornado kept fighting and David Muller scored game to 1-3 at time 17:37. Colmar still managed to score their fourth goal in the last minute of the period.



During the first break, coach Fical gave very passionate speech to the team and it did have an effect. In the second period Tornado got some power plays. During them Colm Cannon scored twice and suddenly the game was 3-4 and Tornado was back in business.



Despite couple of counter attacks, Tornado was controlling the game in the second period and the team was very confident before the third period.



Unluckily Colmar repeated the same what they did in first period and scored a goal in the first shift and 6th goal before the half point of the period. These made Tornados' life harder again.



After Colmar's 6th goal they took a penalty and as there was nothing to lose, coach Fical took a goalie off and Tornado tried to score with six players. This risk was worthy and in time 51:02 Robert Beran scored game to 4-6.



But again Colmar stopped Tornado's rush by scoring 4-7 on power play. After this Colmar still kept taking penalties and Tornado tried to score with six players. Once Tornado succeed and failed once so the game ended 5-8.



As said, it was Colmars first line (Mathieu 6+1, Pernot 1+5, Boehrer 1+6) who scored all their goals and in the end destroyed the playoff dream of Tornado.



Anyway it was nice to see lot of people coming to Kockelscheuer and support the team. The atmosphere in the rink was amazing. You people would have definetly deserved a win!



Tornado will continue their season already today against Reims in Kockelscheuer at 7pm.